Signature Bloom Bra®
The Bloom Bra is a revolutionary sports bra designed specifically for larger-breasted women sizes 28C to 56L.
Regular price
Sale price
$29.99 USD
Unit price
per
Sale
Sold out
Size Guide
Make sure to visit our Bloom Bras Size Guide Here before placing your order.
Let Us Help You Find Your Size With Our Custom Size Calculator.
✕
DESCRIPTION

* Designed by top female minds from NASA, shipping and packaging experts and the celebrity corset designer for Oprah Winfrey.
* Redistributes weight off of the shoulders and across the back for better posture and less back pain.
* Creates a natural lift without an underwire or squishing the breasts.
* The most size-inclusive sports bra on the market, designed for comfort, adjustability, and breathability wire-free.
PRODUCT CARE

What type of workout gear, especially sports bras need to be treated gently?

Throw it in the washing machine and lay it flat to dry.

Do not bleach or iron.

Back panel/top cup mesh: 77% polyamide 23%elastane
Bottom cup lining:80% polyamide, 20% elastane
Front shelf: 100% polyester but does not touch the body
Strap mesh: 70% polyamide 30%elastane
SHIPPING & RETURNS

Most orders ship within 24 - 48 hours of receipt.  We are a California company so it can take 1 - 5 days to arrive from shipping.    

Bloom Bras offers 100% guarantee with free returns and exchanges up to 90 days after purchase. Learn more about our refund policy here.
FAQ

How do I find my size?
Our number one question. Fun fact: breasts change 10% throughout the month. That is part of the reason why finding the perfect fit can be tough. In. fact, 80% of women are wearing the wrong bra size. We've created a size calculator to assist you in finding your ideal fit or reach out to us. We love talking boobs and understand the struggles of finding a good bra.

How do I put this on?
Put it on like a vest. There is a clip right behind the zipper for our busty ladies to make it easier to zip. Once you are zipped, lean forward and scoop the girls in. The bra is designed to encapsulate. Adjust the straps to the lift of your choosing. Some like them high, some like them lower and some of us are not symmetrical. There are cinchers behind the bottom layer that work like individual corsets. And enjoy!!

Why is Bloom Bras more expensive?
The question of price comes up from time to time. We are working to keep prices as low as possible but while keeping the quality. There is a lot of engineering that goes into the bra. You do not use the same materials and mechanisms to carry a 3- pound rock as you do a 12 pound. Plus, we wanted to produce at a sustainable factory. Each element on the Bloom Bra serves a purpose designed for larger busts. For most of us, doubling up on a sports bra was our previous solution. We will not sacrifice quality to get a sale.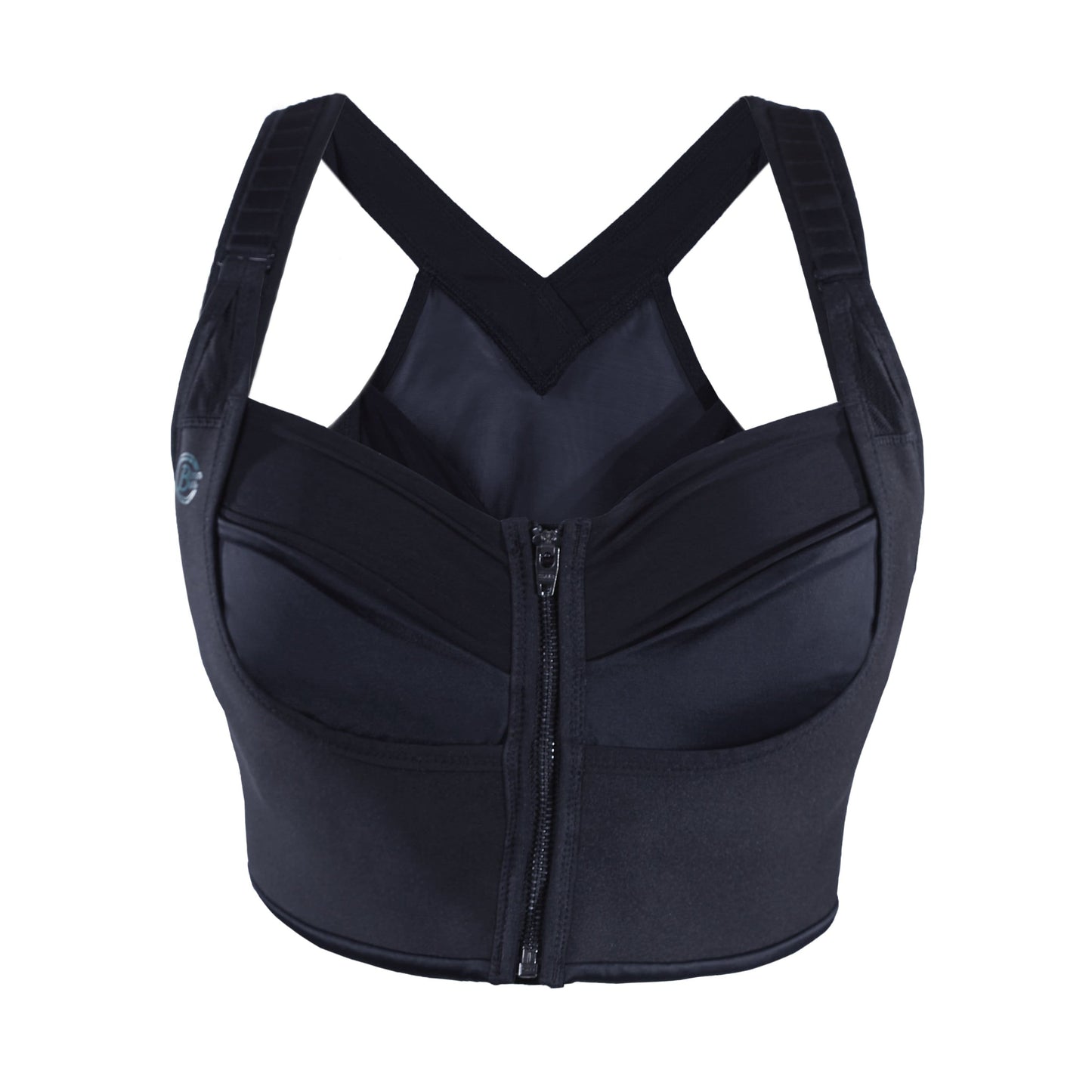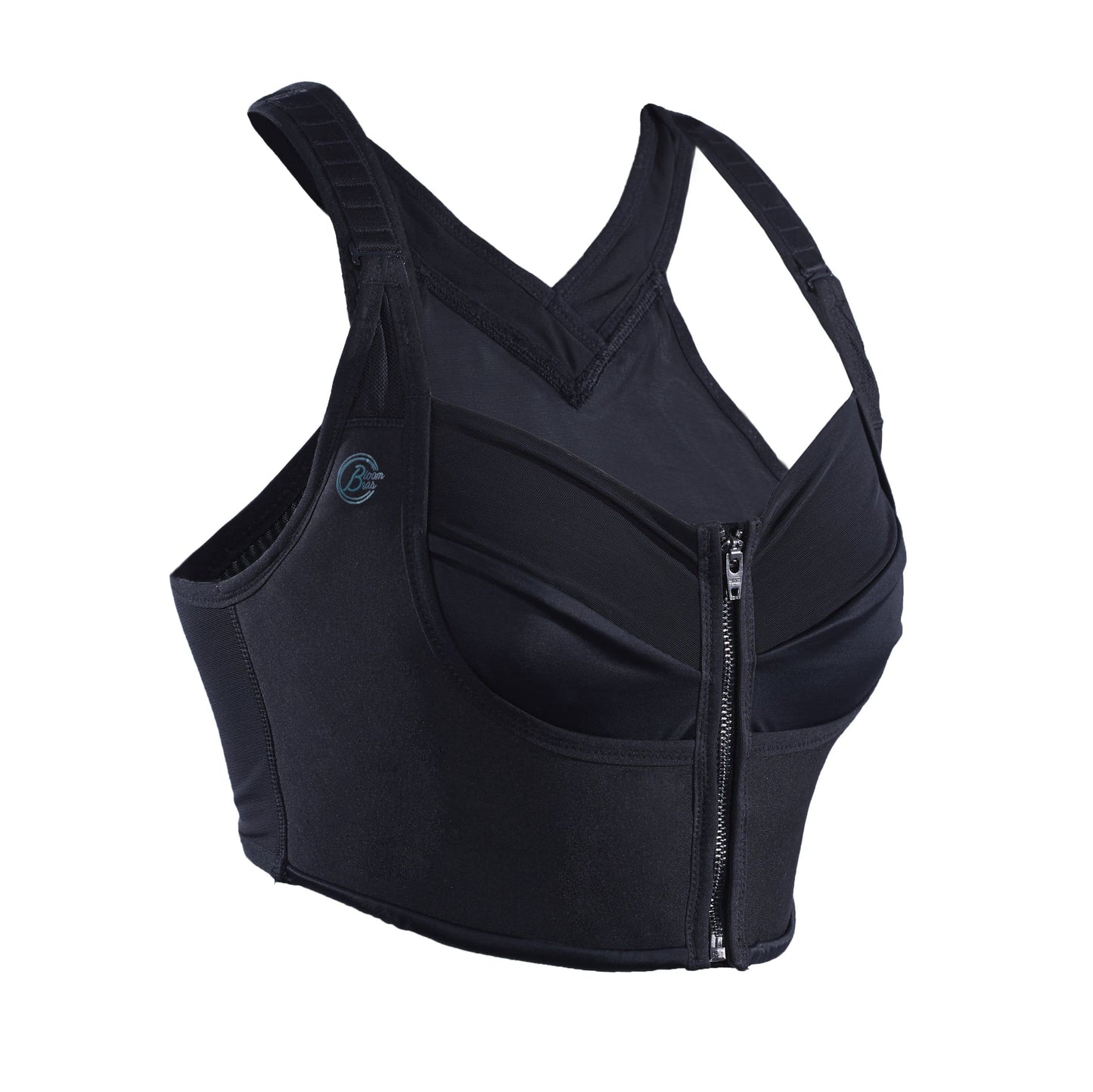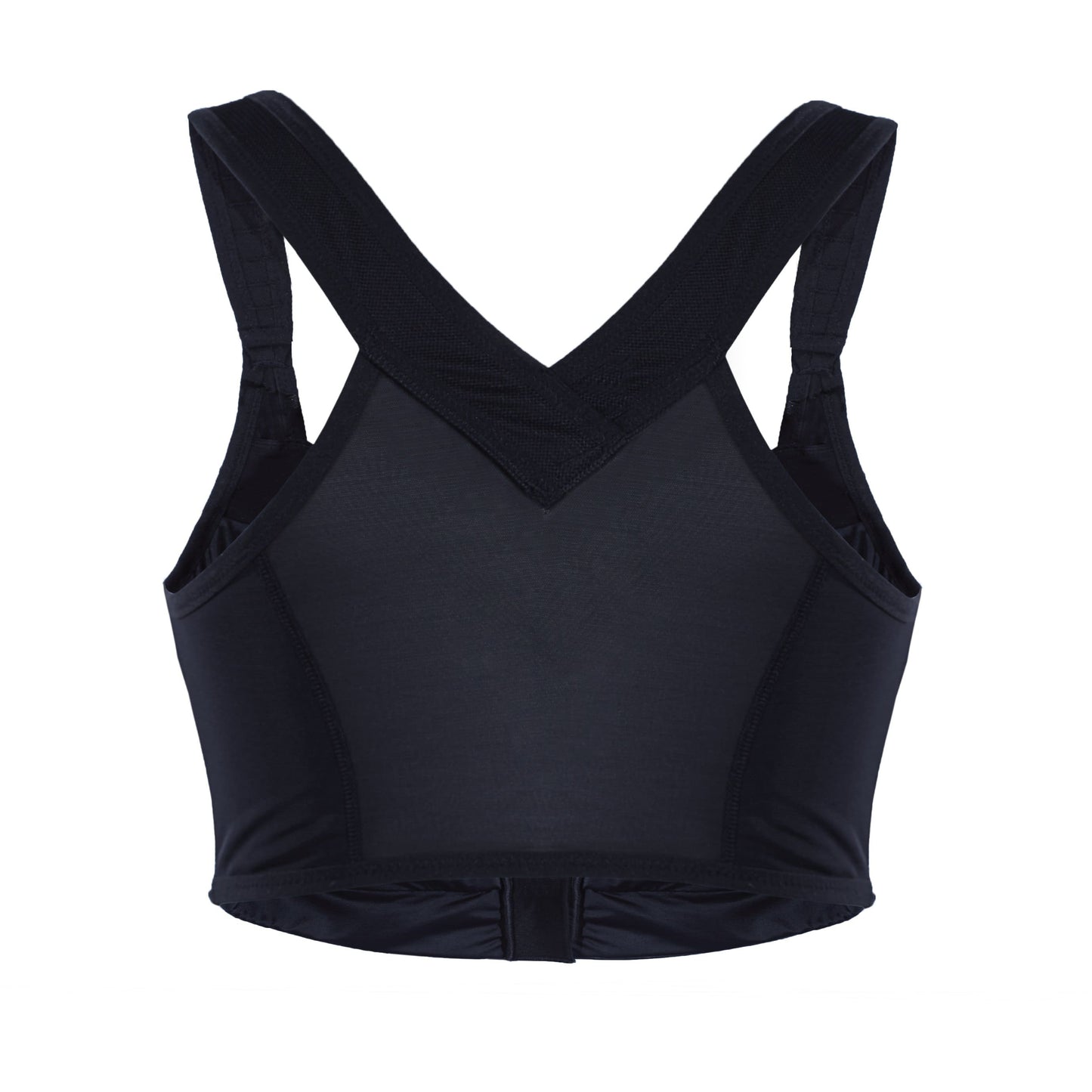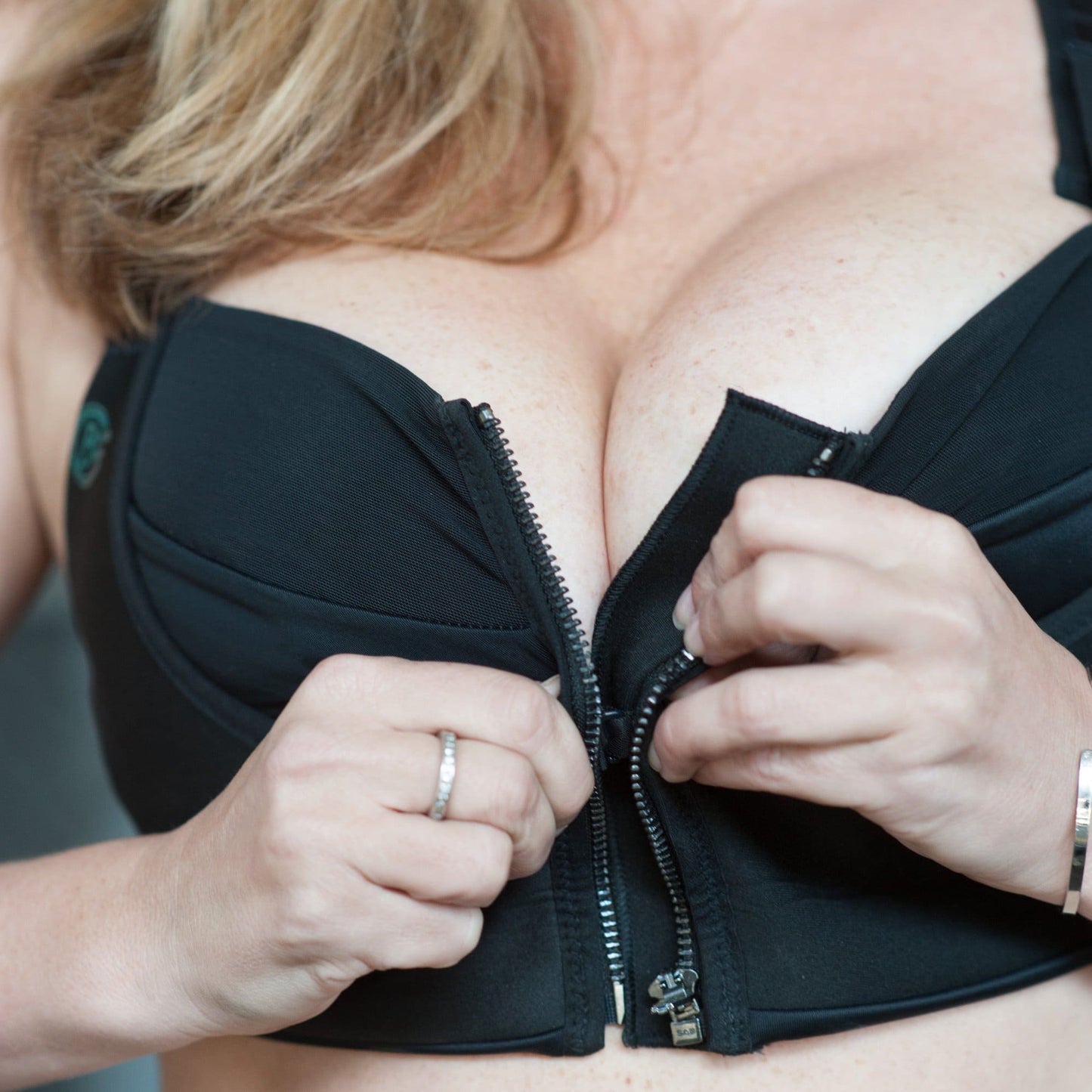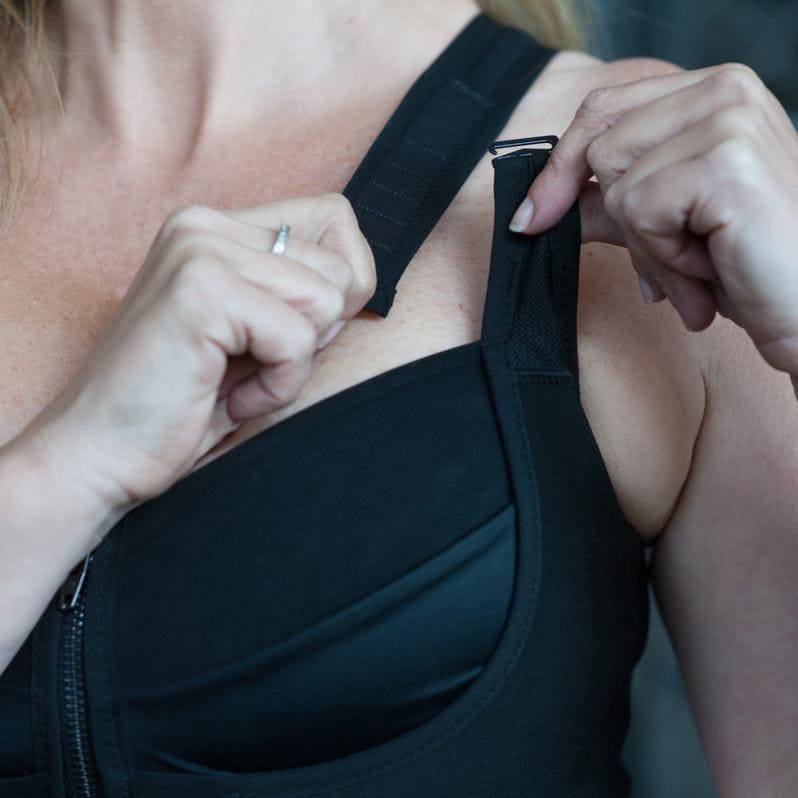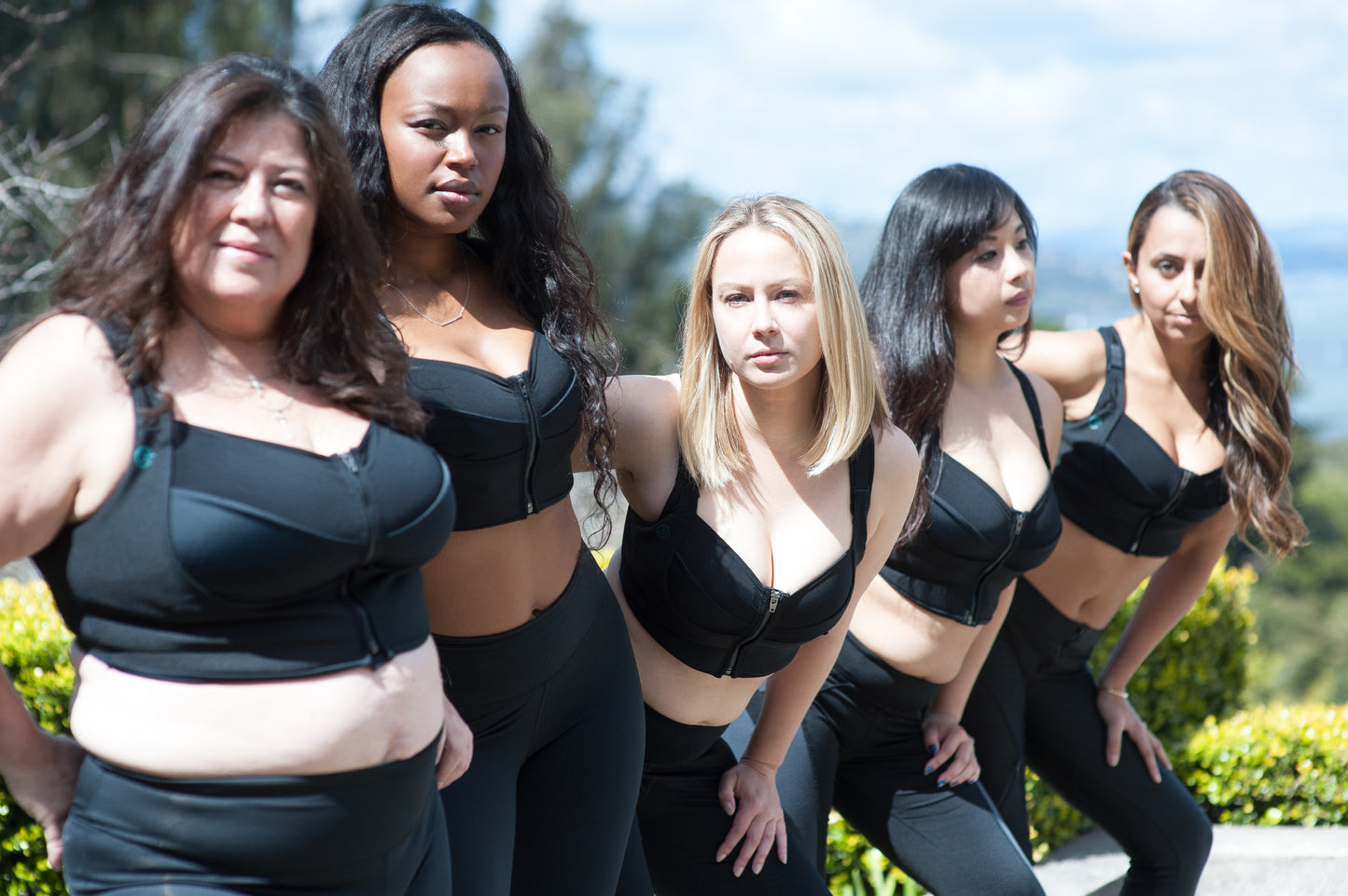 ZIPPER
High-quality locking zipper with a hook behind the zipper for easy zipping. Let's be honest, us busty ladies cannot easily zip or button anything up front.  Designed for women by women made of sturdy metal with a flap behind so that only fabric touches the body. 


EASE OF USE

All of the adjustments are in the front. Getting all of those hooks in the back to match is like an aerobic workout. Slipping a sports bra over big breasts is virtually impossible. And Velcro falls apart, catches hair and disintegrates in the washing machine.

SOFTNESS
The bra was designed to be comfortable, breathable, adjustable and feel great. Anything that touches your body is soft and wicking.

Proudly designed in San Francisco by women 

BACK SUPPORT
The back is a breathable mesh with seams designed to ride along the edges of your back so that the bra expands and contracts with you. All of the weight from the front is pulled to a point at the base of your neck and dispersed across your back giving a feeling of weightlessness. Great for posture and for those with nerve damage.

NO UNDERWIRE


We have a passion for breast health. Those pesky red lines you get from wearing an underwire bra are harmful and hurtful. So we made it a passion to get rid of the wire. The indirect correlation to breast cancer is not worth it. For those with big boobs, we do not have many options. You would not carry a 3 pound rock the same you would a 12 pound rock.

ADJUSTABLE STRAPS

Straps are wide and designed for comfort. They adjust to whatever level of lift you desire. We are not all symmetrical. There is a loop behind the strap to secure in place.


CINCHING CUPS


Each cup has a cincher to customize to the cup size. This is our patented system designed in conjunction with one of the top celebrity corset designers in the world.